Packaging design templates are very useful for showcasing your artworks and packaging design dummies  to your clients. For examples, you can use a blank packaging template to present different label designs for a shampoo or a software. The most versatile packaging templates that you can download online are those vector templates since they are not resolution dependent. You can use them in any size, from brochures to billboards without any problem.
In this post, we rounded up 30 sets of packaging design templates. From empty boxes to plastic bottles and wine bottles, there are a lot of useful files that you can find in this post. Information about licensing of these templates are available from the source page. Although, all of these packaging design templates are free for personal use, with some also available for commercial use. Check out the individual terms of use as they may vary from one author to another. To download the set that you want, simply click on the preview image and it will take you to a new page where you can download them.
Don't know how to work with vector files? How about some free high-quality Photoshop PSD product packaging mock up templates? We have actually a more recent post on this topic. Don't forget to check these freebies as well: 32 Useful Product Packaging PSD Mock Up Templates
01- 3D Packaging box vector templates
A collection of 3D packaging box in vector format that you can use for advertising your products. Use these packaging templates to show off your artworks to your clients and wow them. It can be used for products design, software box design, logo design show-off and many other design purposes. Its vector collection so you can customize it to meet your clients' needs. This all collection is free to use, even for commercial purposes.

02-CDs Vector Pack Design
A vector pack containing different templates for packaging a CD.

03-Open packages
A set of ten different containers or boxes is contained in this Illustrator footage pack. Includes various open and sealed packages that you may use for icons, symbols, buttons or elements for shipping and packaging themed graphics.

04-Cardboard Boxes
A large set of cardboard objects, shapes and packages you can use for visual identity, promotion and business communication projects. These cardboard box stock images may be used also for product design, warehouse, mail, equipment, merchandise, stock & transport graphics.

05- 3D Packaging Vector Templates
Another set of free vector package templates composed of suitcase, hat box, cardboard boxes, cylinder box, milk or juice pack. These may be useful for creating 3D promotion objects, retail shapes, package dummies, corporate concepts, business icons or three dimensional packs.

06-Various Blank Packaging Templates
A set of various packaging templates you can use for visual identity, product presentation to clients, business and shopping graphics.

07-Packaging Templates Vector
A paper craft vector template for boxes. The templates include different shapes and styles with clear lines for folding, cutting and gluing the models.

08-Free Miscellaneous Packaging Templates
You may use these free packaging templates in preparing great packaging such as gift box for a special ocasion, a point-of-sale display for your commercial product, among other things.

09-Miscellaneous Utility Box Vector Templates
A variety of blank templates for your product design and presentation.

10-Various Carton Box Vector Templates
Another set of blank box templates in vector format.

11- 10 Packaging Design and Rule Die Document Vector Material

12- 9 Packaging Design and Rule Die Document for CD packaging

13- 18 Models of Various Packaging Box Templates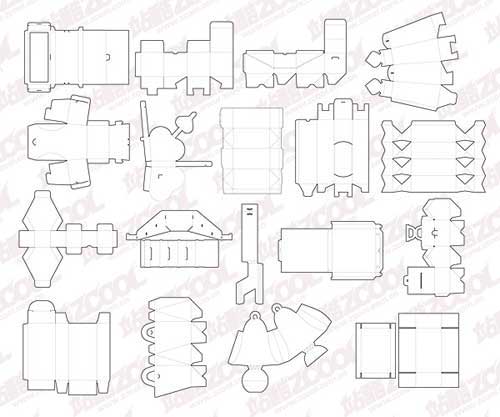 14-Kraft Paper Bags Vector Templates

15-Free Blank Packaging Templates
Use these templates to showcase your artworks or logo design for your company packaging, business package, visual identity system. The design includes space for text, graphics and corporate identity illustrations.

16- Wine Bottle Packaging Design Template
A detailed packaging illustration of a realistic bottle of wine. Great for creating designs for products and establishments like alcohol, beverage, bar, restaurant,etc.

17- Cosmetic Packaging vector Templates
Beauty product containers in vector art format to design body lotion, aftershave bottles, etc.

18-Brown Bag Vector Template
This paper bag vector template is perfect for shopping and packaging themes. To change the color of the bag, select the color layer and click on a swatch.

19-Red wine bottle
A realistic red wine bottle. Just add your logo and graphics.

20-Cosmetics Bottle Vector
Cosmetic cream in several colors and two designs. Also included are some compositions. Included in the archive is one transparent png, ready to use, just cut and paste.

21-Tubes Vector for Lotions and Shampoos
Here is a set of template featuring cosmetic tubes in several colors. Also included are 2 background compositions.

22- Water Bottles Vector Template
This set features plastic bottle packaging templates with clean water content. These vector illustrations of big beverage bottles with cap and clean blue transparent drink water are downloadable in Illustrator EPS and AI vector art format.

23-T-Shirt Template Free Vector Pack
20 Free Illustrator vector apparel t-shirt templates in vector format.

24- T-Shirt Vector Models
This free files contain 4 T-Shirt vector models and 2 T-Shirt shapes, front and back, for girls and boys.

25-Winter Items Branding Collection
A set of winter items branding collection in vector format. Simply download and put your logo.

26- Pumpkin Shaped Box
Here is a pumpkin-shaped box vector template that's perfect for Halloween.


27- Orange juice bottles and empty vector material

28-Various Vector supplies packaging material

29-Starbucks Coffee Cup
A classic Starbucks disposable coffee cup with a label with the company's logo.

30- Vector Shopping Paper bag Template
A vector template of bag in the EPS file.